Charity Week Revolution Spreads Across the UK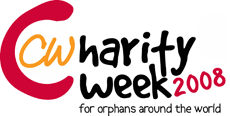 On Monday October 20, 2008, a strange sight was seen in universities, train stations and streets across the UK. Young Muslim students started participating in a variety of events from cake sales to skydiving raising money for orphans. Everywhere from Glasgow to Wales, from Dublin to Leicester, students wearing the same T-shirts and using the same posters are competing to raise the most money and have the most fun.
Charity Week began almost seven years ago as a project of the University of London Union, Islamic Society Network (ULU ISoc) in association with Islamic Relief. The aim was to unify the Muslim students of London while helping to raise funds for orphans across the world. In doing so, Charity Week aimed to reverse the impression of lazy, divided and inactive Muslim youth whilst giving a practical example of what could be achieved if we put our differences aside.
In the first year, the project raised an unprecedented £30,000 with 19 universities in London taking part. The growth since then has been dramatic with the next year's total reaching £130,000. Last year, in 2007 the project expanded outside of London and included the 2nd major city of the UK, Birmingham. In fact, even Australia got in on the act after being inspired by the videos of Charity Week on sites such as Youtube. The total raised was over £200,000 by the grace of Almighty Allah.
However, more important than the phenomenal amounts raised, is the passion and unity that is brought about by the people participating in the event. For one week in the year, Muslim youth move and act as one body towards a common goal. There is a different feeling in the air and many students who were not inclined towards Islam find this event inspires them to get involved and learn more. Whether £1 or £200,000 is raised, it is the unity that is the ultimate aim of Charity Week and although the students from each university compete hard during the week to raise the most money, they all come together in the end to celebrate their achievements.
Charity Week also serves as an excellent da`wah opportunity. In the same tube stations and bus stops, where Muslims are associated with violence and terror, there will be young Muslims engaging with others for a worthy cause. The impression created is memorable and many volunteers have had long conversations with members of the public correcting misconceptions and dispelling myths.
This year, FOSIS (the Federation of Student Islamic Societies) has also become involved in Charity Week and over 100 Islamic societies at universities from four countries are taking part from October 20-26, 2008. Another year of fun, fundraising, activism and da`wah awaits, in sha' Allah!
If anyone from any country would like to get involved in Charity Week or start something similar in their own country, please feel free to contact the National team on:
charityweek@gmail.comor
uluisoc on
info@uluisoc.com
If you would like to see the sensational Charity Week 2007 Video then please click on the following link: