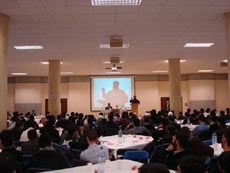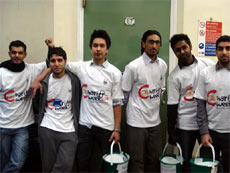 UK Muslim Students Raise Record-Breaking Amount for Orphans!
UK
Muslim students came together for the announcement of the final results
of Charity Week, 2008. They came together to raise money for orphans
across the world. Charity Week for Orphans is a project of FOSIS
(Federation of Students Islamic Societies) and ULU ISoc (The University
of London Union Islamic Societies Network) in association with Islamic
Relief.
For one week,
on street corners, bus stops and train stations across the UK Muslim
students were to be found smiling, talking and making friends with the
intention of raising funds for the needy. Rather than the stereotypical
impression of Muslim students as terrorists-in-waiting, the general
public were shown a different side that was altogether more confident,
engaging, determined and acceptable
Charity
Week was also a chance for Muslim students to flex their muscles in
many ways with many societies coming up with novel techniques to get
people to part with their cash. Apart from the auctions and fund
raising dinners, there were football tournaments, chilli eatathons, a
mystery theatre and fashion shows. Events such as bungee jumping, sky
diving and sponsored head shaves added to the excitement.
Finally,
the combined work of over 100 Islamic societies from Universities and
colleges up and down the UK was announced at the ULU ISoc annual dinner
at the London Muslim Centre. After inspiring talks by Sheikhs Zahir
Mahmoud and Tawfique Chowdhury, a burst of poetry from the American Def
Poetry Jam artist, Amir Suliman, and a three course meal the moment
everyone had been waiting for, the announcement was made
The grand total for Charity Week 2008 came to an amazing £330,000!